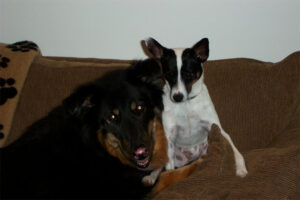 "When I received a flyer (in a birthday card from a dear friend) about Karen I was so happy to read about someone who could connect with animals who had passed. I lost my beloved dog, Rosie (a 14 year old collie mix) to cancer at the beginning of the year and even though several months had passed, I was still having a really hard time with her loss. I couldn't wait to make an appointment for a reading! I was looking forward to my reading with Karen, but at the same time I was really nervous about it too. I didn't have any idea what to expect.
Once I heard Karen's voice I was immediately at ease. She was so kind and caring. When she connected with my beloved Rosie, I couldn't hold back my tears and I cried (a lot)…my tears were mostly tears of joy but also some of sadness. I was really emotional and Karen was very compassionate and understanding. I had wanted for so many months to communicate with Rosie and Karen gave me that chance. I knew she was connecting with Rosie because of all the things she told me. She also connected with my other dog. my little rat terrier named Loki. He was sitting on the couch next to me when I talked to Karen and she told me about him and his relationship with Rosie and me. What a bonus!
As I was talking to Karen about Rosie, I could feel her warmth and compassion not only about my relationship with Rosie but she touched on things about me that described me perfectly!
Karen is wonderful, warm, caring and sincere. I felt very blessed to have found out about her and talked to her and I thank her from the bottom of my heart! I find myself thinking daily about the things she told me and I feel so much better just knowing my beloved Rosie is with me and that feeling of comfort is like a hug from heaven."
Marsh Silvia, Rosie's Owner
Duncan the Parson Russell Terrier
"Duncan, a 2 year old unaltered Parson Russell Terrier, came into my life in June of 2010. He was a Champion show dog and now being retired. As I have always started with puppies, and preferred females, adopting an adult male dog was a new experience for me. But, that was not the only challenge I faced with Duncan. As a show dog, Duncan had issues of his own to contend with. I was aware of his lack of any obedience training, but what I did not foresee was his aggression when challenged. Not only did he show aggression toward my cats and other dogs, but he was successful in actually biting me several times, refusing to surrender or back down when corrected, and showed no remorse for his outbursts. I was concerned with his aggression and the regularity of his attacks, which seemed to be without provocation.
As concerned friends suggested I return him, I instead sought out the guidance of Karen to seek insight into his sudden rages. She told me of his insecurities and how he liked to be the only dog, and that he saw himself as a King, showing her a picture of him sitting on a throne wearing a crown. But because he went from his original home in Canada back to the breeder, to a home that did not work out because of his biting, back to the breeder, and then to me, he was afraid of being turned away yet again and returned. My first question of Karen was "Does Duncan like me and is he happy with me." Karen assured me he did like living with me and we would be best friends. But she also told me I needed to be firm and take control of him and not allow him to walk all over me. She told Duncan his antics would not be tolerated and that he was in a safe and loving home, and that the cats were there first and he would need to get along with them. He also told Karen that the life of a show dog was not always a happy one and that he did not know what it was like to just be a dog.
It has been 6 months since Duncan and I have found each other and he is a different dog. We have been able to go on long walks and have interacted with other dogs without him lashing out to attack them. He has actually made friends with larger dogs and looks forward to those long walks through the pasture. His aggression has subsided and I am happy to say it has been over a month since he has lashed out and bitten me. He does appear to be happier when he is guided and given commands instead of allowed to run wild through my house. He is no longer allowed on the furniture, that is, with one exception. At night, after a long day, he can be found curled up in a ball on my lap in my rocker while I am reading or watching a movie.
I believe Duncan and I are on our way to becoming best friends and I owe that to Karen and the gift she has for giving our animals a voice in which to communicate their feelings, fears and emotions to their owners. She is compassionate and caring, and has been to Duncan, a way to express his fears and anxiety, and to help me to understand what he needed in order to help him to become a happy and balanced pet instead of the full-of-himself, out of control dog he once was. Duncan and I will always be eternally grateful for Karen for bringing us together. Because of Karen's insight Duncan is a happy, balanced and more secure dog. I tell everyone who will listen about Karen and whole heartedly refer her to anyone who feels like they have nowhere else to turn and finds themselves at the end of their rope. Before you do something drastic, reach out to Karen. You will be so glad you did. Duncan and I are."
"I was at my wits end. My puppy Lilly was almost a year old; not housebroken and destructive. She chewed all the furniture, wood and fabric, and even bit my brother. I wasn't new to dog ownership and I tried everything including multiple trainers etc. Nothing worked!
I called Karen, willing to try anything, and had amazing results. One phone call turned things around fast. I found out Lilly was from a puppy mill. She was very sensitive and afraid. Karen communicated what I expected from her. She also told her biting not acceptable. My feelings also changed! I went from being angry and frustrated to loving and understanding.
Lilly is now housebroken and has stopped destroying the furniture. She hasn't bitten anyone and has full run of my house. I am so happy and grateful that I made that call. I was about to give up and it would have broken my heart but animal communication fixed everything. I can't thank Karen enough!"
Anne Hartnett, Lilly's Owner
"I've had K.C since my daughter was eight years old. Recently, K.C had stopped using the litter box and was going behind the couch. I couldn't understand after all these years why she was changing. Karen told me that she felt that K.C was allergic to the cat litter which I had recently changed. After changing the litter, K.C went right in. There hasn't been a problem since. The most astonishing part of this is story is that that Karen had never met K.C. before. When Karen finally met K.C, she ran right over to Karen and would not leave her side. It was amazing because K.C. usually hides under the bed when there are strangers around. I couldn't believe what I was seeing. All I have to say is that Karen is amazing! She helped not only my cat, but taught my family that animals can be communicated with! Karen is a gift from God!"
I am honored to write a testimonial for Karen Daley. We've traveled a long path together. When I had an Animal Communication session with her I truly realized the depth and strength that such a reading can give. It is truly healing. When she explained why my dog Apollo had certain behavioral habits as if it was coming directly from him, he explained it to me. I'm still grateful.
With light, Rev Rita Berkowitz
My first encounter with Karen Daley as a medium was in 2007. I was completely amazed by her gift! I have had multiple readings with her over the years, and I have found it to be very affirming and comforting. She has communicated with both persons in spirit and also with dogs and cats, both on the earthly plane and in spirit. I have found that her gift has brought me great comfort and hope. This brought me insights from those who have passed into spirit, through which I have received great comfort, guidance, and insights into myself.
I would highly recommend Karen; she is truly gifted… she is firmly grounded spiritually and approaches each encounter honoring those in spirit and the person to whom she is communicating their words.
Judy Harrison